As you are building your business, prioritising the type of customer experience you want your clients to have will pay off exponentially in the long run. The steps you take to make them feel welcomed, equipped, and valued are so important for gaining trust and positive reviews.
A great way to onboard new clients is to create Client Welcome Pack, which is a document with all the information they need to know as they start this exciting business partnership with you.
Knowing what to include in a client welcome pack can be tricky! You want to provide relevant info without making it unnecessarily long. In this article I will talk you through all the key sections that you should include in your client welcome pack. Read on!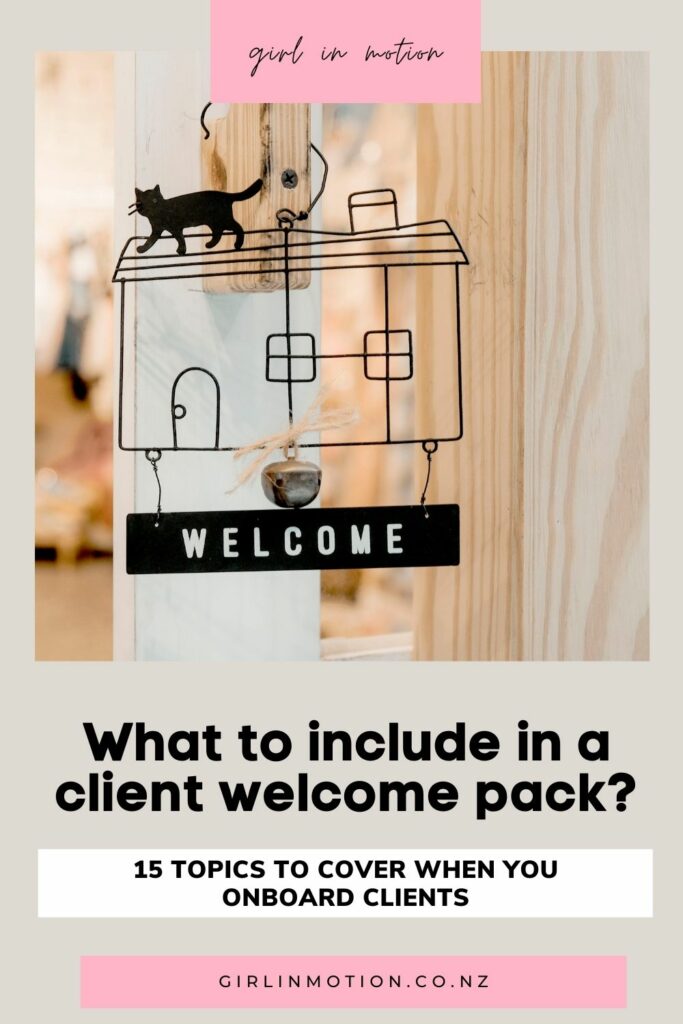 What is a client welcome pack
There are many ways to go about welcoming your new clients. One of the easiest ways of building strong relationships with your new clients is by offering a Client Welcome Pack.
These are given to new clients as an all-inclusive, detailed packet of information about the service offerings you sell. They are also personally customised to build hype around your business and get to know you as the service provider.
What should I include in a client welcome pack? 
Interested in offering a client welcome pack with your business? Here are 13 topics to include:
1. A Welcome Page
Introduce yourself! Take this first page to make your first impression with your new client by giving a warm hello. Don't forget – they have made a big decision to commit to your services instead of a competitor. Use this welcome message to set a professional and friendly tone which will represent your time spent working together.
2. Timeline
Do your services include specific milestones to achieve? Do your services last over a certain period of days/weeks/months? Outline that timeline on this page to give your client a sense of when to expect certain agreed upon results from your services.
3. The Process
Dive in deeper! Take them step-by-step through what the timeline will entail, and give them an organized list of what they can expect from your services. This is a resource clients can refer to as they go, so make sure the details are reliable.
4. Package Details
Break down everything your client will receive from your services. Did they order the Premium Package? Give them an overview of what is included in that package, the features and benefits, the deliverables, and the method of how the deliverables will be received by the client. Pro tip: keep it as simple and clear as possible!
5. Important Dates and Deadlines
Think through the calendar view of your services and outline them here. Any key homework assignments or tasks that are needed for the designated outcomes of the program should be listed here. Think of it like the part of a college syllabus where the dates of assignments are listed.
YOU MAY ALSO LIKE: How to get more clients with a pricing and services guide
6. How We Can Communicate
Even though you are outlining everything your client needs to know in your welcome packet, your client may still need to touch base with you. Let them know HOW to reach you (video call, phone number, email, text) and WHEN they can reach you (open hours, your response time). This is a great way to let your clients know you are there to support them and answer any questions they have while setting boundaries.
7. What I Need from You
Your partnership with your client is a two-way street. For you to deliver an A+ service to them, it is likely you will need some support from your clients. List what is needed from your client like contact info, signed paperwork, or get-to-know you exercises. Be sure to make your action items as simple and clear as possible so your client knows exactly what to do.
8. My Values
You already won them over, but that doesn't mean you should stop wooing them! Remind them of the "Why" behind what you do and why your service matters. Include your mission statement and any taglines. There are plenty of logistics involved in getting started with your services, so show them the meaning behind the to dos.
YOU MAY ALSO LIKE: How to deal with criticism in business
9. What You Can Expect from Me
Out of all the competition, why did your clients pick you? What do you offer that no one else does? Promising certain expectations will activate accountability to both your client and your brand. Be sure to list expectations like good communication, timely deliverables, or anything that will reflect well on both your brand and your own character.
10. What's Next
Get them hyped! At this point, your client has a general overview of your services, so now you can lead them to the next step. Whether that is joining a social media group, completing a task, or even waiting on the next update, be sure your client feels secure and excited about what is coming up.
11. Payment and Cancelation
Give instructions about how to make payments, and be sure to include a cancelation policy in your welcome pack. If you have a preference on payment methods, timing, or late fees, make sure to include those here. For your cancelation policies, be clear about the process and terms of canceling.
12. Goal Setting
One of the final steps is to include a template for your client to write their goals. Whether you are providing a fitness program, a social media program, or any other business, each client is unique and has their own goals to achieve. With your services to help them, they can use this page to plan, write, and revisit their goals.
13. Your Signature
One last step! Since the message and tone of your client welcome pack reads like a sincere and professional letter, end your welcome pack with a genuine sign-off. Include your contact info and a simple signature to complete the packet with a personal touch.
Get a professionally-designed Client Welcome Pack Template
There is no need to start from scratch – make a winning first impression with your clients using my Client Welcome Pack template! With this editable template, you can customize your welcome pack to include the service offerings your clients need.
Mastering the art of providing an amazing customer experience takes practice, but with my template, you already have an advantage. Now go and welcome your new clients with confidence!
In Conclusion: What to include in a client welcome pack?
New clients are new opportunities! Opportunities for building new relationships, growing your business, and strengthening your brand credibility.
By creating a thoroughly planned and professionally designed client welcome pack you can ensure that all your terms are communicated clearly and expectations are set. This will kick off your working relationship on the right foot and increase the chances that the project will run smoothly. 
Want more tips and inspiration? Check out these articles: