Starting an online business can be daunting, there's no doubt about it. It can feel like there are hundreds of things to think about right at the beginning, and it's difficult to know where to begin. 
However, there are ways in which you can make these initial processes far easier for yourself. By using user-friendly and accessible tools to grow your business, things like building a website, creating your branding and growing your mailing list suddenly don't seem like such unattainable feats! 
There are so many awesome tools out there that you can use to run and grow your business, and this article will go over the ones that I have found most useful for the growth of my own online business.
Disclaimer: This post may contain affiliate links. This means that I get a small referral fee if you purchase a product or service through my links. There is no additional cost to you!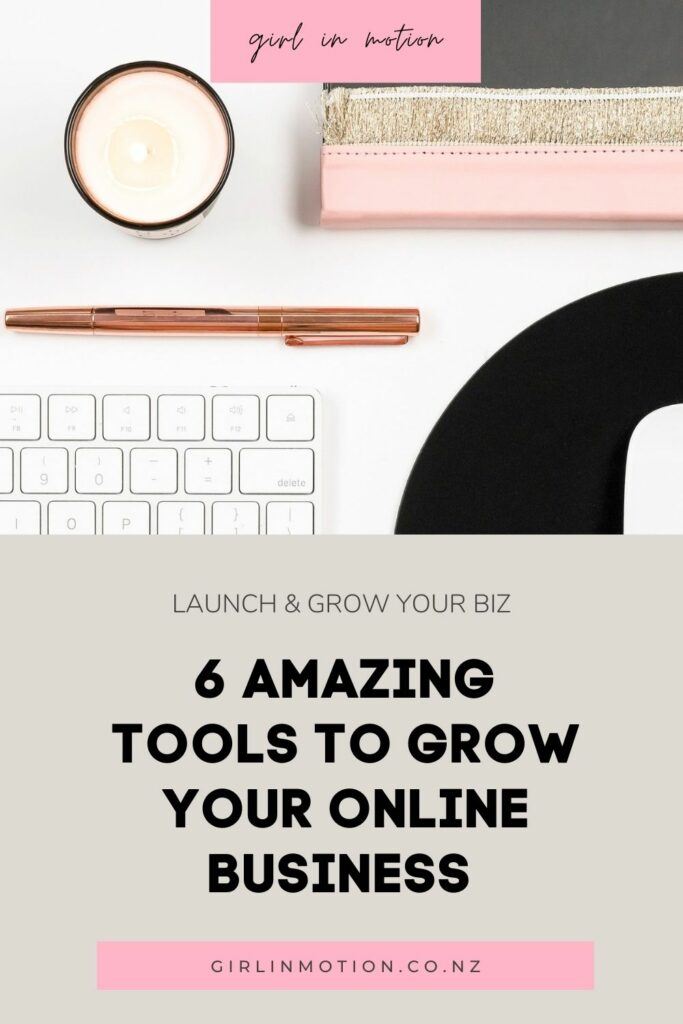 My recommended tools to grow your business
Below is a list of tools that I've used to get my business off the ground, and I still use regularly to grow my business. These are tools that work for me, but it took me a bit of trial and error to find them! There are lots of opinions and recommendations out there, but not all tools will be a right fit for you. The key is to find the tools that work for YOU and YOUR business.
1: Canva

Canva is perhaps one of the most essential tools to grow your business. It can be used to make many different graphics, including logos, social media images, business cards, ebooks, letterheads, and pretty much anything you can think of!
This online design tool makes it easier than ever to make designs that are perfectly suited to your business – even if you know nothing about design yourself!
Budget can be tight when you're starting your small business, so affordability is key.
Canva offers both a free and a pro version, but the free version is more than enough when you are just getting started! 
Canva also has thousands of templates and design options that don't cost anything at all, and you can also buy premium templates on sites like Etsy if you are looking for something a bit more special.
Canva is also unparalleled in terms of ease of use, allowing you to create graphics in just minutes. This is the perfect tool for when you're just starting out, as it gives you the chance to have high-quality designs online at an affordable price.
RELATED: How you can use Canva to streamline your social media content creation. 
2: Elementor
Elementor is a website builder that makes it super easy to create beautiful websites, landing pages, and eCommerce stores. 
The beauty of this web designer is in its simplicity, with a drag & drop live editor, designer-made templates and promotional features, all coming together to help you to build a stunning website for your business. You don't need to be a web design expert to use this tool. It is very easy to create something that looks amazing and is highly functional as well.
I used Elementor to build this website (and several others) and I love it! I have also used several other web builders in the past, but I thought none were as good or easy to use as Elementor.
The look of your website is super important when you are just starting out as a new business owner. Your website is your window to the world, and as it's often one of the first things a prospective customer will see, and can be the difference between them staying to see what you offer and clicking away.  
Elementor offers both a free and pro version, but the free version is more than enough to build and grow your website.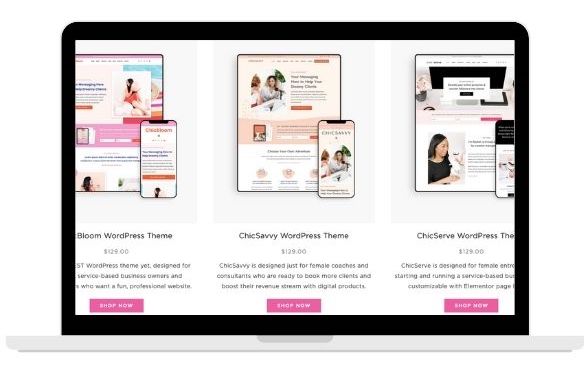 3. Bluchic Elementor Templates
While you can create a website from scratch using Elementor, I recommend that you use a ready made template! This will save you so much time and hassle. 
Choosing a template for your small business website is a great way to get an eye-catching aesthetic and high functionality without needing to have extensive knowledge of coding or web design.

My personal choice for high-quality website templates is undoubtedly Bluchic. They offer a range of gorgeous, stylish and feminine WordPress themes that you are able to customise according to your brand. With your purchase you receive step-by-step instructions and tutorials, making it super easy to set things up. 
Want to speed things up? Get Bluchic's installation service and you can have your website looking like the demo in 24 hours. 
If you like the look of my website, then Bluchic is for you! I built it using one of their themes and it is still available for sale in their shop.
I have also used the Bluchic Sales Funnels template pack, which comes with landing pages, tripwire pages, as well as opt-in and thank you pages. This saved me so much time as I was building my funnels. 
Bluchic has a huge range of templates that can be used for all different kinds of small businesses, and it is the perfect tool for getting your business off the ground.
Once again, having a website that looks great and works well is the basis of generating leads and acquiring new customers, and choosing a professionally-designed, optimised, and SEO friendly templates is a great way of getting started with that.
4. Fiverr
Fiverr is another essential tool for business owners. This is a freelancing platform where people from all over the world sell their services. At Fiverr you will find writers, social media managers, SEO specialists, accountants, web designers and so much more!

Fiverr makes it very easy to outsource work for your business. Being a solopreneur can be a challenge – you have to wear so many hats! And learning to outsource is key for business growth. I know, it can be easier said than done when your business is just starting and your budget is limited. But by delegating some tasks you will free up time to work on your zone of genius, so the investment will pay off! 
Fiverr can also come in very handy when you are just getting started and need help with designing a logo or setting up the accounting side of your business.
Outsourcing some of these tasks will help get things off the ground faster. 
This platform can also be a good way to find some initial clients for your small business. For no upfront cost, you can advertise several services that you offer and rely on the Fiverr algorithm to send you some leads. This is a good way to network when you're first starting out and want to build a client base.
Use the search box below to find a freelancer for your biz: