The year is nearing its end, and you might be asking yourself, "should I start my own business?" And let me answer that by saying: yes! The time is now because if not, when? You only get one life so why not make it one full of reaching goals and making money doing something you can be passionate about?

And you may be thinking – Nat, I hear you, but how do I know for sure that being a business owner is for me? Well, you've come to the right place! In this post, I'm going to talk to you about the signs that tell you it's time to start your service-based business.

But read right till the end as I will give you a few tips to help you bring that business idea to life. Let's get started, shall we?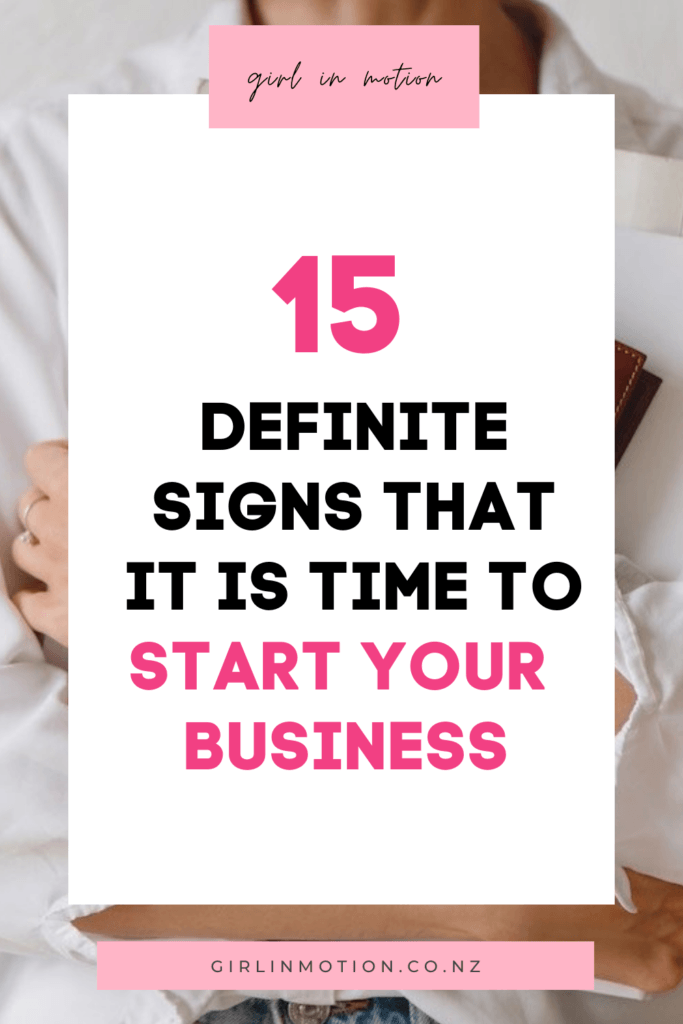 Should I start my own business?
If you are reading this, then you've likely dreamed about being your own boss for some time. But the reality is that you haven't made any progress for one reason or another. It may be because you don't know where to start or that you are scared of failure. 
And it's totally normal to have negative thoughts and worries, and let me tell you, I did at first, too. This is just human nature: your survival instincts kick in and it can be easy to catratophise and talk yourself out of it.
And the truth is that you are never fully "ready"to start. You just need to take a leap of faith and trust your gut. It can be super scary at first, but the payoff is truly worth it!
The beauty behind being my own boss is that I get to create my own schedule, choose the clients I want to work with, and most importantly, make money doing something I love. Granted, there are ups and downs as with any business, but it's so worth it.
So, how do you know if your time to start a business has arrived? Look out for these signs: 
You dislike your job
It is not so much that you dislike what you do, but more that you hate everything else that comes with being an employee: the alarm clock, being told what to do, the commute, the pointless meetings, office politics…..and the list goes on. If you resent having to go to work each morning, then that is a sure-tell sign that is time for a change!
You want flexibility
For me, the biggest sign that I was ready to start my own business was my desire to have more freedom. I hated the limited holidays, the time restraints, and living by someone else's rule. If you are ready to call the shots in your life, then running your own business is for you! 
You want to choose who to work with
Working with negative people that drain your energy can affect your whole life. The beauty about being your own boss is that you can choose who to work with. Yes, you can get a bad client from time to time, but you can always fire them if things don't work out. You are in charge: your business, your rules. 
You've always wanted to be your own boss.
If it's always been a dream of yours to be your own boss one day, what is holding you back? Once you know that answer, you'll have a more transparent vision of what needs to change. If you hate the thought of making money for someone else, then you likely have the determination to be the boss one day. 
You have a business idea that gives you butterflies
You have your heart set on a business concept for quite some time. Or maybe the thought came to you suddenly, and it's all you can think about from the minute you wake up and maybe even in your dreams. Listen to that little voice! It doesn't shut up for a reason. 
Your business idea is in high demand
Every amazing business idea starts somewhere, and that's usually from the people around you. It's essential to understand your ideal target market. Evaluate and understand what their problem is. Can your business idea solve that problem? If the answer is yes, you are already off to a great start. 
You have a plan
Now, I'm not talking about a formal written business plan (although that is always a plus!). I mean, you have an actual plan that transforms your fantastic business idea into something tangible.
Starting a business is no easy feat. It requires a lot of planning. If you have a day job, you might want to ensure you have savings to help keep you afloat until your business can become sustainable. Or you may want to start small and start your business part-time while you continue your full time job (This is what I did and I recommend it!) 
While that is not always feasible, creating a plan can give you the clarity that you need to move forward. It could be as complex as a thoroughly thought out business plan or as simple as something written on a post-it note. Make a plan and take action.

I recommend that you download my FREE New Business Workbook. That will help sort out your ideas and give you a plan to move forward.
You're ready to embrace learning
Starting a business is one thing, but maintaining a business for years to come is a whole different ball game. There are going to be many lessons to be learned, even before you officially launch. It is important to mentally prepare yourself for a ton of learning that is to come your way.
Most importantly, try to have fun doing it. Be ready to learn the easy and challenging lessons that come with running a business. 
You understand what it is like to run a business
Perhaps you have grown up with entrepreneurial parents you may have been reading and researching about what it's like to be your own boss. If you already have some knowledge of what it takes to run a business, then kudos to you because you already have a leg up above most people out there. Now it's time to formulate everything you want to achieve with your new business and how you will smash those goals.
Time management is one of your many specialities. 
As the saying goes, time is of the essence. Excelling at time management requires self-discipline, and this skill can bode well for you as a business owner. If you can manage your time to a 'T,' you're closer than you think to become a boss.
You are ready to embrace change
It is crucial to understand that running a business is a skill that you need to learn. When you are your own boss your days will be very different from being an employee – if you are ready to embrace a new way of living then you are off to a good start!