It can be difficult to know when you are first starting out with your own business what is worth investing in and what isn't. Typically, right at the beginning of your business is not when you have the most money, so you want to make sure that you're spending it only in the ways that are sure to make your business more successful.  
For this reason, it is understandable why so many small business owners are a little more on the hesitant side to pay for professional branding photoshoots right at the very beginning; people want to make sure that this is actually a wise investment.
It has to be said, however, that paying for a professional photoshoot for your business is one of the things that really does make a huge difference when you're starting out, elevating your brand presence and giving you that extra boost above the competition.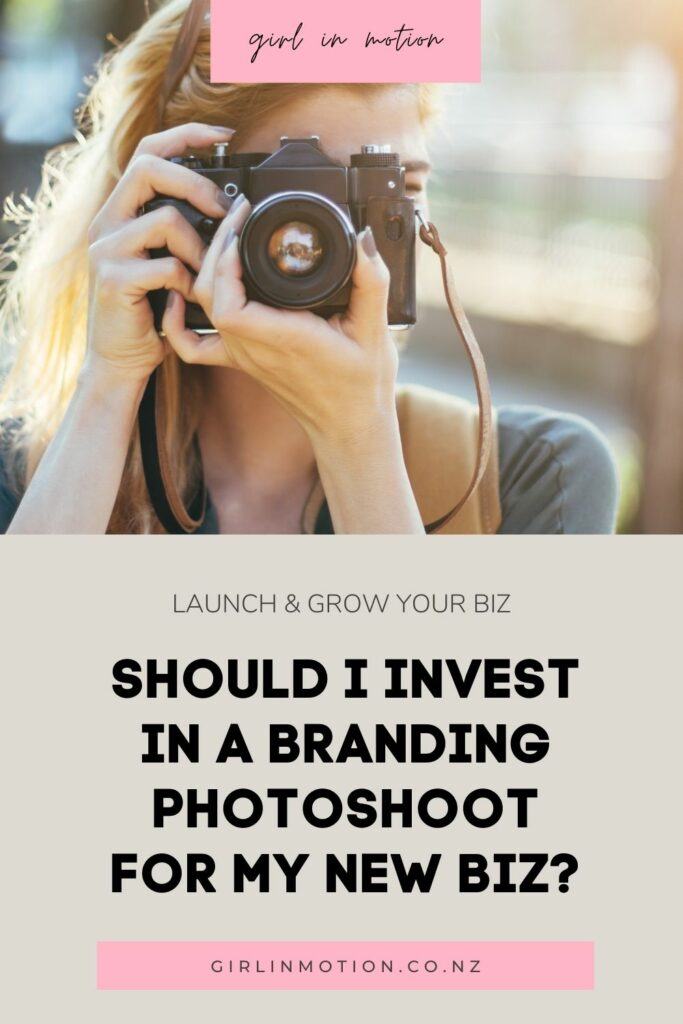 Why it's a good idea to invest in professional branding photos as a new business owner
There are many reasons why it's a solid investment in your business for you to opt for getting some professional branding photos taken.  
First and foremost, it makes your brand look incredibly professional and builds a lot of credibility for your business.
People buy from those they know, like and trust, and having amateur looking photos on your website can make you look like you are not up to the task. 
A branding photoshoot will also help communicate the vibe and feel of your business to potential clients. Professional photographs are hard to replicate yourself; a good photographer will know exactly what it takes to make you look your best and get you that professional image that will best represent your brand. 
Of course, the natural continuation of this benefit is that your new professional photos and freshly elevated brand is going to get the attention of prospective clients by giving them the best first impression imaginable.  
The images that people see when they visit your website or social media pages for the first time play a huge role in whether they stay and take a look around or simply click away. 
Once you have grabbed their attention, they're going to take the time to see what it is that you're offering, which is where all of your hard work and great ideas will get their chance to shine through.
YOU MAY ALSO LIKE:  What kind of content works best on Instagram? Tips to help you launch your social media presence. 
What to wear to a branding photoshoot
The idea behind a branding photoshoot is that they accurately and authentically represent you and your brand, so there is no point in dressing up as someone else and putting forward an image that isn't truly representative of you and what you are doing.  
Therefore, the most important thing to remember is to be yourself and let your personality be reflected in what you are wearing! Of course, it can be a difficult choice deciding what to wear to a branding photoshoot and it can feel like a lot of pressure to get it right, so here are some tips if you're struggling!
Put forward the best version of yourself!
As I said before, it is important to be yourself in your photographs, but you want to make sure that the 'you' you're putting forward is the best version that you can. It helps to think about which of your positive traits you want to put forward the most, and channel it into what you wear. Do you want to come across as fun? Laidback? Or professional and business-like?
Colour is your friend!
Regardless of the extent to which you feel comfortable in colour, you can find a way of incorporating it into your look. This is what will really help to make your pictures pop and make them far more attention-grabbing. Think about your brand colours and choose a colour palette that will work with your overall brand look.
Add your favourite accessories!
A few extra quirks will make your photographs more interesting. 
YOU MAY ALSO LIKE: Tools to help you launch and grow your biz. 
Ideas for shots to include in your branding photoshoot
One of the biggest pieces of advice I would offer is to have a think before you go for your shoot what kinds of shots you might like. Otherwise, you may end up feeling like you've turned up guessing, and the shots might not turn out the way you wanted them to. 
A good photographer should take the time to get to know your brand and the message that you are trying to communicate with the images, and suggest the poses and settings that would work best. Having said that, it is always a good idea to come up with some options of your own. 
Of course, if you do not have any previous experience in professional photoshoots, you will most likely have no idea where to begin with coming up with photo ideas. 

If this is you, then here are some things to consider:
What is the best location for the photoshoot?
Do you have a home office or workshop that you want to photograph? Or would it be better to go to an off-site location? If going outdoors, what setting would suit your brand better? The beach? an industrial space? A cafe?
Include some basic headshot plus a few action shots
Headshots can go a long way if you're looking for a clean shot, perhaps to accompany a short bio, or to use for your social media profile. Interaction shots can really show you in action doing the things that keep your business going.
BONUS TIP: read about the be