Starting a business doesn't have to require the time and energy you might think. Sure, it requires additional time out of your life but you don't have to do anything drastic like quit your day job. The choices you make today will directly impact where your business is tomorrow. It's entirely possible to find time!
Continue reading to learn how to find the time to start a business by using these six techniques.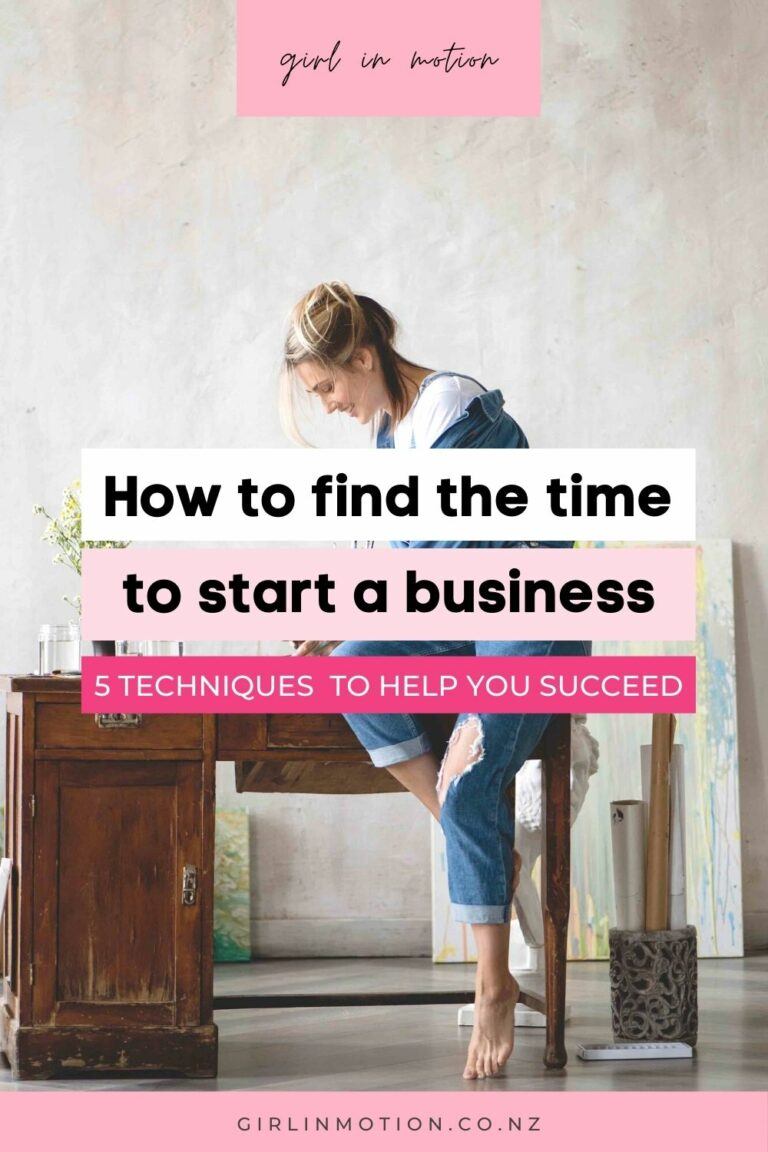 1. Create Deadlines for Yourself (And Follow Through!)
As with anything, creating a deadline for yourself will force you to make time for your business. It's always easy to tell yourself you'll get started tomorrow, but having a concrete deadline such as "I will launch my business on May 25" really enforces it.
When you take away the flexibility, you make a promise to yourself that you will make time to do whatever it takes to meet the deadline. You know what happens next? You've proven to yourself you can actually create time for your business.
Take this deadline as seriously as you would take a deadline that you have to deliver client work. Most of us would do whatever it takes not to let down a client, so give yourself the same urgency. 
Creating deadlines will force you to make better choices and prioritize what really matters. You may realize you need to wake up an hour earlier. Maybe you'll stay in one extra night a week from a social event. Setting goals backed by a deadline will do just that for you, make it happen! 
Think about the last time you didn't set a goal for yourself. Did you follow through? What about other times? There's a good chance you put whatever it was off and never finished it. It's easy to push things aside that don't have deadlines, we're all guilty of it from time to time.
Without deadlines in place, distractions and lack of motivation both come into play. This leaves you no better off than where you started.
2. Start Small
Start small by setting a daily goal for yourself. Think of it like a checklist with one item. Once you're able to check one item off the list, move onto setting weekly goals. Once these become achievable, move on to longer term goals. You will soon find it's actually possible to achieve deadlines you set for yourself, no matter the timeline. 
Setting a deadline will help you work smarter, not harder, and your business will be off the ground in no time! You'll find yourself staying productive without stressing over little details in the grand scheme of things.
Stay flexible in your approach and have realistic expectations. Don't set deadlines that are impossible to meet. Set them so you're able to stick to them while holding yourself accountable and not making excuses.
RELATED: How to Stop Procrastination and Crush Your To-Do List
3. Eliminate Hidden Time Wasters
Do you ever find yourself aimlessly scrolling social media for hours on end? The answer is yes for most of us.
Think about the last time you sat down to eat a meal, or got a break at work. What was the first thing you did? If you're like me, you pulled your phone out and jumped on social media. It can be so addictive, but if you're looking to find time to start a business, you have to cut out hidden time wasters like this one. 
If you have this tendency and you're not willing to 100% give up the social media time, there is a cool tool out there to help with this. News Feed Eradicator is a Google Chrome extension that replaces the feed you would normally see from Facebook, Twitter, and LinkedIn with an inspirational quote instead. WIN! Right?! Who doesn't love inspirational quotes when they're trying to build a business?
4. Find extra time you previously didn't think existed
I'll let you in on a little secret. You have hidden time in your day that you currently don't even know exists. Yes, that's right. I know you're probably thinking you can't possibly squeeze another minute into your schedule, but you can. 
If you work in a job that requires you to go into an office, you have extra time. No matter where your office is, you have a commute to get there. Even if you're driving, you have the extra time to put into your business. Use this time to listen to podcasts or audio books to learn more about how to run your business. If you take a train or subway, use your phone, bring your laptop, or iPad and research away on your commute! You can even use this time to answer emails!
Not sure what to do? Think about or write down (if you can) your service offering descriptions or plan your social media content to promote your business. You don't even need connection to the internet, you can type everything up in a Word document or notes app and save it to your device. 
If your manager allows flexibility in your schedule, ask if you can adjust your hours by an hour or half hour so you have more time at home at the end of the day to put into starting your business. Yes, this requires you to wake up an extra hour earlier but by the time you get home you won't even remember or feel it. On top of that, you'll feel so happy to have that extra hour to work on your business. Avoiding rush hour traffic is a huge bonus as well!
5. There's power in saying no
Some of us have had to learn this the hard way, but there is so much power in saying no! It's tempting to say yes to everything coming your way when you're first starting your business, but the no's will allow you so much more time to further your business in the future. 
By saying no, you're allowing more time to work on the things that will actually further your business and allow you to say yes to other things in the future! It also helps increase your productivity for the things that matter most while creating healthy boundaries.
6. Create time on the weekends
It may sound terrible, because so many of us use the weekend to reset and refuel for the upcoming week ahead, but weekend hours are precious time that will further your business. You can always use Friday nights to relax and unwind from the week you had, just set some time aside on the weekend for your business. Think about how much opportunity exists in those weekend hours that others are not taking advantage of. 
Weekends are also a great time to create social media content to promote your business for the week ahead. You can spend a few hours and have a full week's worth of content ready to go! Then, you can use tools like Tailwind to automate your posting so you never have to think about posting during the week!  
In conclusion: You Can Find the Time to Start a Business If You Really Want To!
Finding time to start a business isn't as hard as it may seem. It's more of a mental challenge than anything else. 
When I got my first client as a freelance copywriter, I was still working a full-time office job, so I had no choice but to find the time to do my client work. So I wrote on the train on the way to/from work, during my lunch break, and in the evenings/weekend. I am not going to lie, it was hard! But I was so determined to grow my hustle into a business that I had to make it work. All that sacrifice during the early days has definitely paid off, so I am so grateful I found the time!
Now that you know how to find time to start a business you can start immediately! There are no major secrets, it's just about prioritizing your workload, life, and setting goals around what's most important.
If you're looking for an extra boost to jumpstart your business, you can download my free "New Business Workbook" here!
More articles and inspiration to help you start your biz:
Latest blog posts