Fiverr gives you instant access to thousands of logo designers from around the world, allowing you to commission a logo from the comfort of your sofa! But with so many options at your fingertips, it can be a challenge to decide how to choose the right logo designer on Fiverr. Where do you even start!
Don't let this discourage you! If you are starting a business and have a limited budget, getting a logo designed on Fiverr can be an excellent solution. 
In this article, I will talk about the 7 steps you can follow to find your ideal logo designer on Fiverr. Read on!
Disclaimer: This post may contain affiliate links. This means, I get a commission if you purchase through my links, at no cost to you.
Tips to help you choose a logo designer on Fiverr
Ready to find your perfect match? It can take a bit of time to find a suitable designer on Fiverr, but these tips will help you find your ideal freelancer. I will start by giving you a brief intro to Fiverr and then straight onto my tips. 
What is Fiverr?
If you haven't heard about Fiverr before, then I recommend that you check it out! Fiverr is a website that connects freelancers with business owners, and it is especially useful for solopreneurs who may need a hand with a task but not have the budget to hire a permanent contractor.
Via Fiverr you can hire freelancers over a whopping 400 categories, ranging from graphic design, accounting, web design, admin, legal support, and so on.
I have hired freelancers from Fiverr several times in the past, and I've had (mostly) good experiences. And in the times were the results weren't up to standard, Fiverr support was swift to step in and helped me find a resolution (which was a refund of my order so I could hire another designer). Their customer support team is amazing!
How to Hire a Freelancer on Fiverr to Design Your Logo
If you are starting a business and need a logo, Fiverr is a great option, as it gives you access to a range of talent from all over the world. The price range varies greatly on Fiverr, but you are likely to find a designer that can create an original logo for you at a fraction of the price it would cost you to hire a designer somewhere else.
The challenge is that there are currently more than 167,000 logo design services (called gigs in Fiverr terms) on offer, so finding your perfect match can be tricky!
Don't panic, here are some tips to help you find the perfect logo designer on Fiverr!
Step 1: Before You Order Your Logo on Fiverr
Before visiting Fiverr, you should have an idea of the type of logo you want for your business. Your designer will need some direction from you to get started.
You should write down some basic details about how you want your logo to look. These can include fonts you may want to use (either names or font styles), colours, images, and the general style and feel that you want to achieve with your logo.
You may want to check out this article: How to choose the right colours for your business in 6 steps. 
It would also be helpful to look for some visuals to help your designer create the right look.
Have a look online and save any logos that catch your eye. Make a note of what you love about them. Is it the font combination? The colour palette? The composition? The icon?
Pinterest is a great source of inspiration! You can search the terms "your industry + logo" (e.g life coach logo) or "the style you want + logo" (e.g. minimalist logo) and see what results come up.
Save a few pins and share them with your designer.
You can also have a look at your competition. How can you create a logo that will help you stand out from the competition?
YOU MAY ALSO LIKE: How to stay motivated when starting a business
Step 2: Browse logo designers on Fiverr
Now that you have a clearer idea of the type of logo you are looking for, you can begin your search for a logo designer on Fiverr. This is the fun part!
To do this, go to Fiverr's homepage and search for "logo designer." This will bring back hundreds of thousands of results. You may think "wow, that's impressive!", and you are right, it is pretty bloody amazing, but it can also be quite overwhelming having so many options available! It is a bit like going to a restaurant and having too many delicious dishes to choose from!
So, what you need to do next, it to start narrowing down the results. A good starting point is to choose the style of logo you're looking for. You can easily choose between these styles: Minimalist, 3D, Mascot, Signature, Hand-Drawn, Vintage, Watercolor, Lettering, and Geometric. Fiverr will show you pictures to show you what each style looks like in case you need some more direction (see image below)
You can also filter out using other options such as budget, seller's location, delivery times, and even the expertise level of the sellers.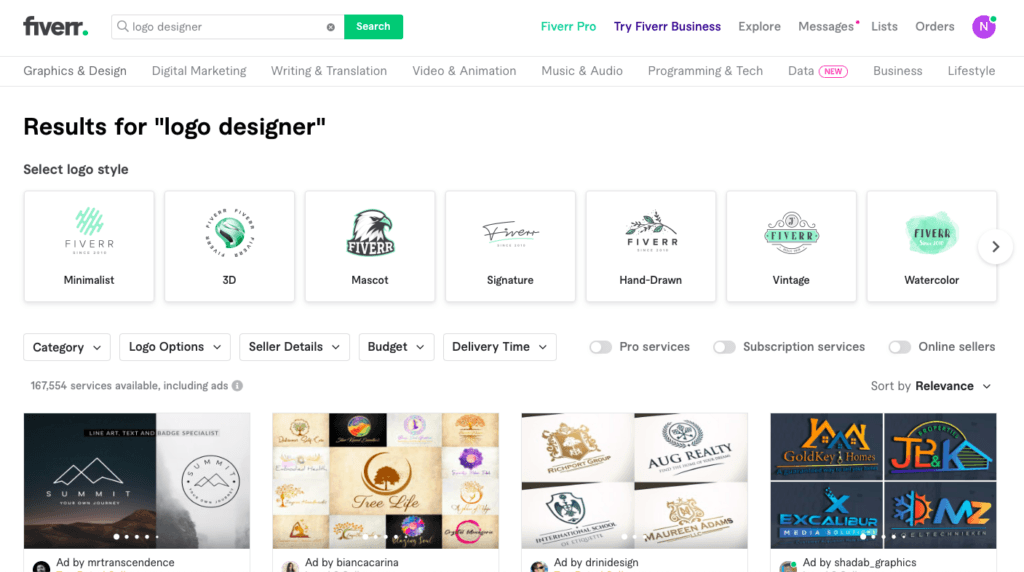 If you choose to go with a high-level seller, you will likely pay more than the low-level sellers. Many low-level sellers have amazing talent and can create a beautiful logo, so don't rule them out.
Step 3: Create a shortlist of logo designers on Fiverr
Now it is time to go ahead and click on a few of the profiles. Most sellers have examples of their past work on the gigs which is super helpful. Having a look at their portfolio should give you a pretty clear idea of their suitability.  
Other things to look out for include:
About this gig: this section will give you a detailed rundown of the service the freelancer is offering.
About the seller: This is the freelancer's bio, with more details about their background, credentials and experience.
Reviews: this is hugely important. What do past customers say about their service?
Packages: many freelancers offer different packages with different inclusions. Compare them to find the most suitable for your needs. 
Revisions: how many revisions are included in the price? Many designers offer unlimited revisions.
Price: obviously this will influence your decision, but don't just choose a designer just because they are cheap! 
Time frame: how soon can the designer deliver the design?
FAQs: many freelancers have a frequently asked questions section, so check it out before you order. 
Once you find a suitable logo designer, you can save them as a favourite. Create a list of options within your Fiverr account. 
Step 4: Message your favourite logo designers
Now that you have your shortlist of Fiverr designers, you should contact a few before placing an order. This step is important, as it will allow you to:
Get a feel of your designer's personality (to find someone you can get along with)
Set your requirements in writing (to ensure they can provide the service that you require before you commit to an order)
Write a general message to send to all your shortlisted designers. This should explain what your business is about and what you are looking for in a logo. Try to be as specific as possible on your requirements to avoid misunderstandings.
Remember that many designers may not have English as a first language, so use simple language. 
Contacting several designers will help you filter out any unsuitable candidates until you find your perfect match!
Don't be afraid to go back to the search results if none of the options from your shortlist feel right. It may take a few tries to find your gem!
Step 5: Place your logo order via Fiverr
Once you choose your seller, it is time to place your order! To do this, simply go to the package that you would like to buy and click the green "select" button. You will be prompted to fill in your details and enter your credit card to complete the order. Your freelancer won't receive the payment until the order is finished and you approve it.
As part of the ordering process, you will receive a few questions from the freelancer to explain exactly what you're looking for.
Communication is key and I cannot stress that enough! The fact that you are ordering a logo online is already somewhat of a barrier so it's important to give clear and specific details about what you're looking for in a logo.
Here is some important information to tell your seller:
Business name
Summary of what your business does
What is the vibe that you want to communicate with your logo (formal, fun, classy, corporate, etc)
Who is your ideal customer
How you will use your logo
Any preferences on colour, font, images, etc.
Any sample images from step 1
Types of files required (see below for more info)
Any other questions asked by the designer
The more specific the details, the easier it will be for your seller to interpret what you're looking for and deliver a perfect logo.
Logo Glossary: Understanding file types
When you send your requirements to your designer, ensure that you specify the file types that you want to receive.
These are the type of logo files available on Fiverr:
JPEGs
JPEGs are one of the most common image formats. They are lightweight but can still offer good enough quality. JPEGs are great for web design, social networks, and photo profiles. A downside is that they lose quality each time you save them and begin to look fuzzy and pixilated.
PNG
PNG is a high-quality file format that is perfect for logos, shapes, screenshots, text, and illustrations. These do not lose quality if saved several times and can have a transparent background (also called transparency).
SVG
An SVG is a file format that is used to save and display vectors. Vectors provide clean and professional quality. No matter how large or small you want to resize vectors, they will maintain the highest quality. The only downside is that social media platforms do not support SVGs.
PSD
A PSD is a file from Adobe Photoshop. They can contain several images as well as several layers, transparencies, and more. These can only be viewed on Photoshop or other Adobe Programs.
AI
Another file perfect for vector images is an AI file. It is similar to SVGs but they can only be viewed and edited through Adobe programs.
EPS
An EPS is a file format for vectors and is best for printing. Many professional printers require EPS files, so make sure you ask for this type of file if you are planning to print marketing material.
CDR
Lastly, a CDR file format is a vector drawing using the program CorelDRAW. They are great for brochures, envelopes, postcards, and more.
You should ask your designer for guidance so they can advice the right file types for your business needs, but as a general guide, you should ask your designer to send your logo in a range of files, including a jpeg, png with transparent background, and a vector file. The latter is important as it is a high-quality editable file.
Even if you don't plan to do any printing just yet, having this type of file will give you flexibility moving forward. (you cannot edit jpeg or png files)