Fiverr gives you instant access to thousands of logo designers from around the world, allowing you to commission a logo from the comfort of your sofa! But with so many options at your fingertips, it can be a challenge to decide how to choose the right logo designer on Fiverr. Where do you even start!
Don't let this discourage you! If you are starting a business and have a limited budget, getting a logo designed on Fiverr can be an excellent solution. 
In this article, I will talk about the 7 steps you can follow to find your ideal logo designer on Fiverr. Read on!
Disclaimer: This post may contain affiliate links. This means, I get a commission if you purchase through my links, at no cost to you.
Tips to help you choose a logo designer on Fiverr
Ready to find your perfect match? It can take a bit of time to find a suitable designer on Fiverr, but these tips will help you find your ideal freelancer. I will start by giving you a brief intro to Fiverr and then straight onto my tips. 
What is Fiverr?
If you haven't heard about Fiverr before, then I recommend that you check it out! Fiverr is a website that connects freelancers with business owners, and it is especially useful for solopreneurs who may need a hand with a task but not have the budget to hire a permanent contractor.
Via Fiverr you can hire freelancers over a whopping 400 categories, ranging from graphic design, accounting, web design, admin, legal support, and so on.
I have hired freelancers from Fiverr several times in the past, and I've had (mostly) good experiences. And in the times were the results weren't up to standard, Fiverr support was swift to step in and helped me find a resolution (which was a refund of my order so I could hire another designer). Their customer support team is amazing!
How to Hire a Freelancer on Fiverr to Design Your Logo
If you are starting a business and need a logo, Fiverr is a great option, as it gives you access to a range of talent from all over the world. The price range varies greatly on Fiverr, but you are likely to find a designer that can create an original logo for you at a fraction of the price it would cost you to hire a designer somewhere else.
The challenge is that there are currently more than 167,000 logo design services (called gigs in Fiverr terms) on offer, so finding your perfect match can be tricky!
Don't panic, here are some tips to help you find the perfect logo designer on Fiverr!
Step 1: Before You Order Your Logo on Fiverr
Before visiting Fiverr, you should have an idea of the type of logo you want for your business. Your designer will need some direction from you to get started.
You should write down some basic details about how you want your logo to look. These can include fonts you may want to use (either names or font styles), colours, images, and the general style and feel that you want to achieve with your logo.
You may want to check out this article: How to choose the right colours for your business in 6 steps. 
It would also be helpful to look for some visuals to help your designer create the right look.
Have a look online and save any logos that catch your eye. Make a note of what you love about them. Is it the font combination? The colour palette? The composition? The icon?
Pinterest is a great source of inspiration! You can search the terms "your industry + logo" (e.g life coach logo) or "the style you want + logo" (e.g. minimalist logo) and see what results come up.
Save a few pins and share them with your designer.
You can also have a look at your competition. How can you create a logo that will help you stand out from the competition?
YOU MAY ALSO LIKE: How to stay motivated when starting a business
Step 2: Browse logo designers on Fiverr
Now that you have a clearer idea of the type of logo you are looking for, you can begin your search for a logo designer on Fiverr. This is the fun part!
To do this, go to Fiverr's homepage and search for "logo designer." This will bring back hundreds of thousands of results. You may think "wow, that's impressive!", and you are right, it is pretty bloody amazing, but it can also be quite overwhelming having so many options available! It is a bit like going to a restaurant and having too many delicious dishes to choose from!
So, what you need to do next, it to start narrowing down the results. A good starting point is to choose the style of logo you're looking for. You can easily choose between these styles: Minimalist, 3D, Mascot, Signature, Hand-Drawn, Vintage, Watercolor, Lettering, and Geometric. Fiverr will show you pictures to show you what each style looks like in case you need some more direction (see image below)
You can also filter out using other options such as budget, seller's location, delivery times, and even the expertise level of the sellers.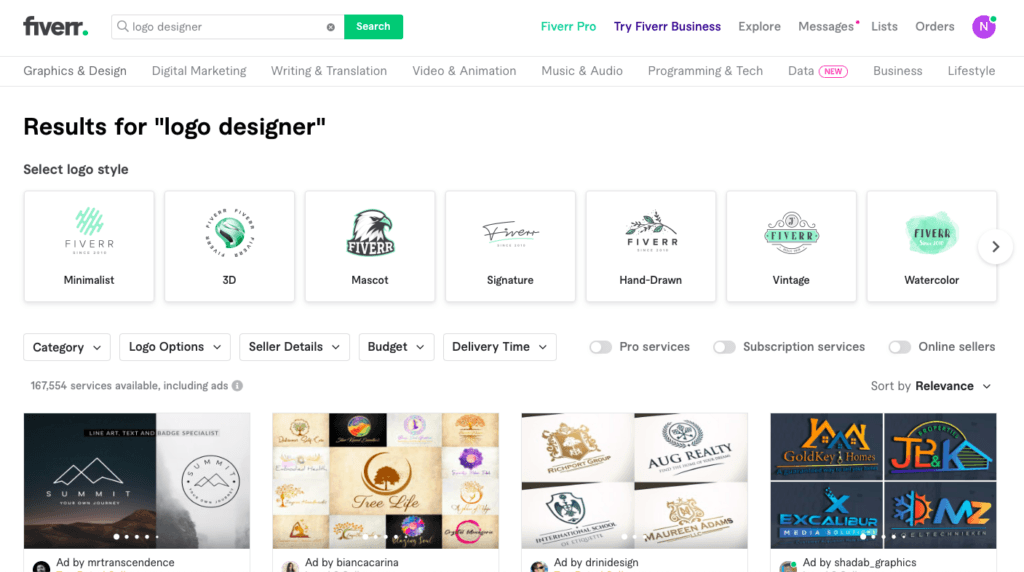 If you choose to go with a high-level seller, you will likely pay more than the low-level sellers. Many low-level sellers have amazing talent and can create a beautiful logo, so don't rule them out.
Step 3: Create a shortlist of logo designers on Fiverr
Now it is time to go ahead and click on a few of the profiles. Most sellers have examples of their past work on the gigs which is super helpful. Having a look at their portfolio should give you a pretty clear idea of their suitability.  
Other things to look out for include:
About this gig: this section will give you a detailed rundown of the service the freelancer is offering.
About the seller: This is the freelancer's bio, with more details about their background, credentials and experience.
Reviews: this is hugely important. What do past customers say about their service?
Packages: many freelancers offer different packages with different inclusions. Compare them to find the most suitable for your needs. 
Revisions: how many revisions are included in the price? Many designers offer unlimited revisions.
Price: obviously this will influence your decision, but don't just choose a designer just because they are cheap! 
Time frame: how soon can the designer deliver the design?
FAQs: many freelancers have a frequently asked questions section, so check it out before you order. 
Once you find a suitable logo designer, you can save them as a favourite. Create a list of options within your Fiverr account. 
Step 4: Message your favourite logo designers
Now that you have your shortlist of Fiverr designers, you should contact a few before placing an order. This step is important, as it will allow you to:
Get a feel of your designer's personality (to find someone you can get along with)
Set your requirements in writing (to ensure they can provide the service that you require before you commit to an order)
Write a general message to send to all your shortlisted designers. This should explain what your business is about and what you are looking for in a