Blogging is not only for big companies. You can certainly boost your small business with a blog as well. But, how? You may be wondering?
Well, put simply, a blog is a way to connect. It's an ongoing campaign for your business and a means of building a real following. Your ideal customer is online and has plenty of questions. With a blog you seek to provide the answers.
Keen to learn how a blog can help you grow your small business? Read on!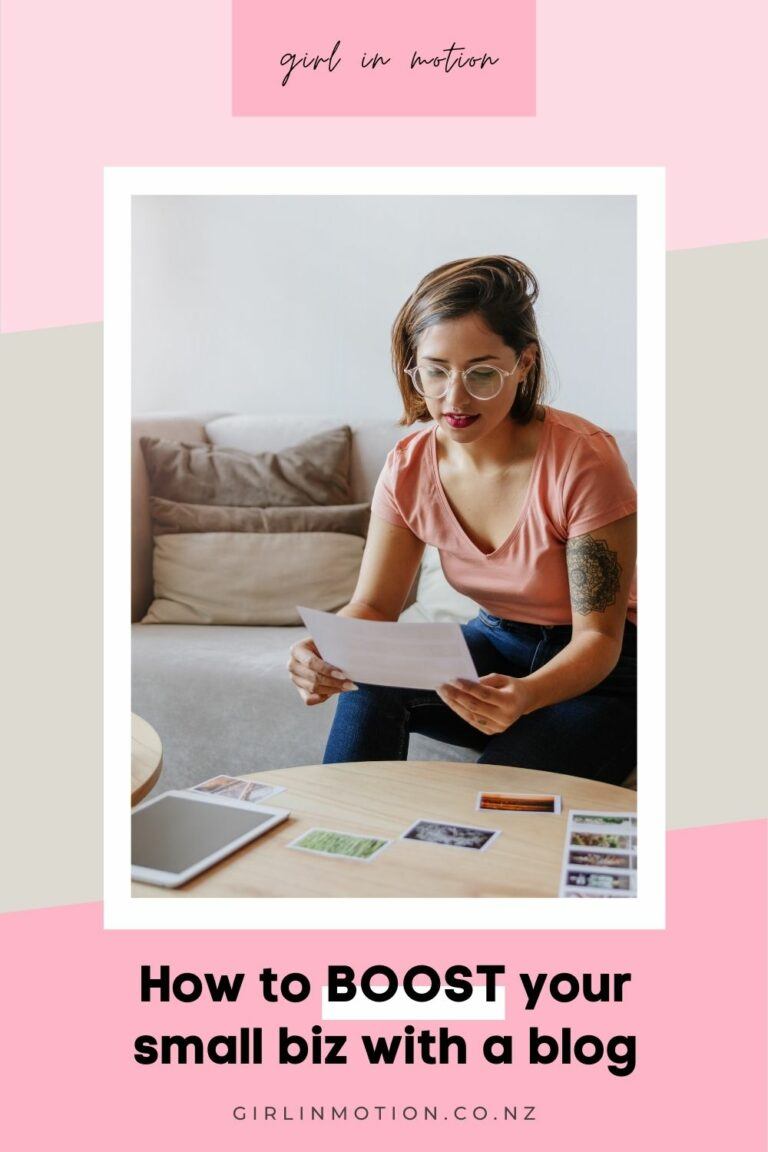 Benefits of blogging for your small business
Blogging by the numbers
Numbers speak louder than words, so let's look at some blogging stats: 
67 % More Leads
Companies with blogs make more monthly leads than companies that don't blog. (Source: Demandmetric)
55 % More visitors
Businesses that blog get more website visitors than businesses that don't. (Source: HubSpot)
90 % Users Find Custom Content Useful
High quality and valuable information makes consumers more likely to take action. (Source: Demandmetric)
GET A STEP-BY-STEP SYSTEM TO WRITE BLOG POSTS LIKE A PRO
Blogging can grow your small biz
Let's explore some ways a blog can help your grow your small business: 
Blogging Increases Organic Traffic
Word up: Keyword stuffing is a thing of the past (thankfully) but keywords definitely count. Each blog post is a road that leads potential customers to your website. Keywords are road signs along the way to help them find you.
Google will love you for it: You don't want to be a slave to the algorithm, but our Google overlords do value regular, high-quality content. Rise in the ranks with the right stuff.
Grow your traffic: You might be tired of hearing the T word, but internet presence matters and that means traffic. A blog is a beautiful way to increase your search traffic and pick up more of those tasty leads. According to a Hubspot study, just 2 posts a month can boost your B2B leads by up to 70%. Why wouldn't you?!
Blogging Brings Your Closer to Your Audience
Social media engagement: A blog gives you a continuous flow of quality content to promote on social media. Keeping active and engaged helps generate leads and builds traffic to your website. Keep it flowing with a blog and stimulate your following.
Be the source of expert answers: Curious consumers are very often looking for information before they make a decision to purchase. With a blog, you can provide the answers they are looking for.
Sharing the love: A blog is a fine way to get noticed by your target audience and your industry. Create content people love and they'll help spread the word. Google loves this too. Having your blog post shared is just the kind of vote you want.
Care to comment. A blog really is the best conversation starter. Learn about your customer base as they learn about you. A comment section on a blog, or on social media is a valuable source of feedback and a meaningful way to engage in real time.
Blogging Boosts Sales
Be a great find: The days of Don Draper advertising are numbered. People research before they make decisions, which is your opportunity to show what your brand is all about.
Strike the right tone.
A blog allows you to strike up a conversation with your audience. Sell yourself without the salesman pitch. Being authentic gains trust, which makes converting so much easier.
Blogging Builds Your Brand
Showcase your uniqueness: If your brand could journal, what would it say. A blog is the best way to inject personality into your brand. Establishing your tone, your style makes you instantly recognisable, increases engagement and helps build lasting relationships with your audience. The result? Better leads.
Hot source: With regular, high-quality content, a blog works to establish your brand as an industry authority. Talk about what matters to you and share your knowledge. Inform your audience and they'll keep coming back for more.
Trust: The research-savvy consumer is looking for a brand they can trust. A blog is the best way to build that trust. A blog isn't a means of simply giving your audience what they want. It's helping them to discover something new. Maybe it's an idea. With so much information a trusted source is a very valuable thing. Blog and be a trusted source.
In conclusion: how a small business blog can boost your brand
Starting a blog is an excellent way to grow your small business. With quality content you can inform, engage, and keep the conversation going with your target audience. Look to provide valuable information and you'll grow a real audience. The result is a customer base that trusts your brand and is truly engaged.
The world is online, so say hello!
Ready to boost your business with a blog? GET A STEP-BY-STEP SYSTEM TO WRITE BLOG POSTS LIKE A PRO
Want to learn more about blogging? Read these articles: