Starting your new business can be one of the most exciting things that you do in your life, but, understandably, it can come with its fair share of worries and fears too.  
One of the most common questions wanna-be entrepreneurs have is: "How much does it cost to start an online business" 
New business owners worry about how (often limited) funds are going to cover the startup costs of launching. Well, the good news is that starting an online business doesn't require a lot of up-front funds!

Here are some of the main costs to consider when launching your online business, including a breakdown of roughly how much they will cost you. Read on! 
Disclaimer: This post may contain affiliate links. This means, I get a commission if you purchase through my links, at no cost to you.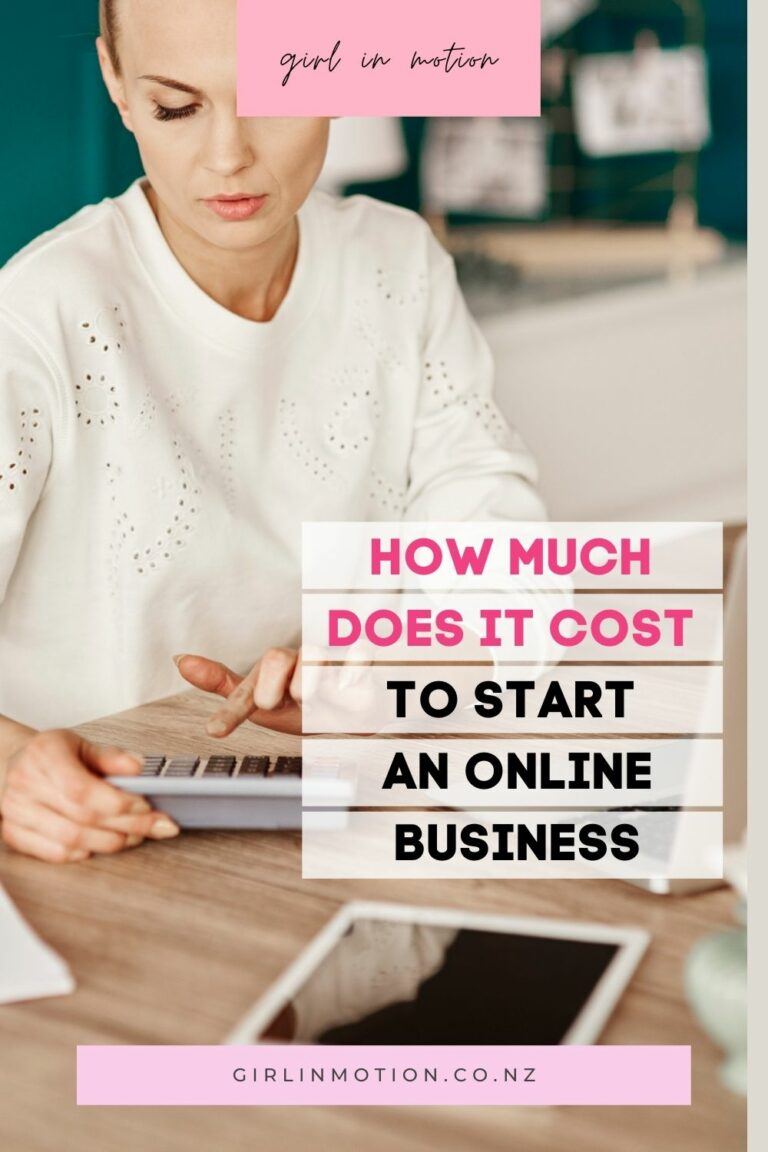 How much does it cost to start an online business: 7 things to consider
These are 7 key areas of expenditure as you are starting a new business:
Online business cost 1: Logo Design
Logos are one of the first things that your prospective clients will see, which is why it is so important that it looks professional and speaks to your brand.  
This means that your logo should be eye-catching and memorable, but also that it should go with the rest of your design in terms of colour palette and font. This will give people the impression of a cohesive brand, as well as giving them a feel of who you are and what you do from their very first impression. Not only does this catch their attention, but it also makes them want to stick around longer!
When you are just getting started, you will likely not have a big budget for your logo. But there is no need to panic! Here are some options to get an awesome logo without breaking the bank!  
Canva: Free 
If you have a flair for creative design, there is a super-easy way to cut the costs of logo design which can still give you great results! 
Canva is an online design tool that allows you to create a unique and entirely personalised logo at no charge at all. This is a great option for saving money and allows you to get creative while thinking about how you might like your brand logo to look. 
You can use one of their many templates as a starting point or build something from scratch. You may also want to download my free branding boards that come with Canva logo templates, colour palette and font combination. These are a great way to kickstart your brand! 
FREE DOWNLOAD: Branding board with logo templates
Fiverr: From $20USD
If creating a logo yourself doesn't sound like your thing, don't worry! There are also some highly cost-effective options that you can use to get yourself a great logo.  Many people looking to start a business will use Fiverr to find freelancers. who can work at an affordable price.
Many top-rated sellers on Fiverr are offering logo designs from $20 USD, and some will include more than one design option for this price!
If you haven't checked Fiverr before, you can have a look here.
RELATED: How to get a logo designed on Fiverr
Online business cost 2: Launching a Website
Having a website is absolutely essential when it comes to sharing information about the service that you are providing. It is the best way to condense a lot of information into one location, and let prospective customers know about everything that you have to offer. Like logo design, it is important that your website is high-quality and reflects your core brand identity. 
In terms of website costs, there are a few different ones to consider:
a –
Domains

The first thing to consider is the cost of buying a domain – your space on the web or the url people will use to find you.  This can be very cost-effective if you know where to look.
Bluehost offers an affordable plan and has an excellent reputation ($12.99 for the first year, $17.99 for renewal after this)
b – Hosting
Web hosts make it possible for your website to be found online, so there is no way to get around this cost. There are many affordable options out there, including Bluehost (from $2.95 per month)
c – Website design
If you are just starting a business, you may not have the budget to hire a web designer. Luckily, there options available that won't break the bank!
Using a ready-made template can save you a lot of work and a lot of money, as opposed to designing a site yourself or hiring a web designer to do it for you. I highly recommend that you use a template that can be edited using Elementor. This is the most amazing web builder, and it is free to use!
There are some great free template options out there, including the Astra Starter Templates. If you are prepared to go premium, I recommend that you check the templates at Bluchic.
For about USD129 you get a responsive, sleek and professionally designed template and step-by-step instructions on how to get it live on your site. 
My website is built using a Bluchic template, so if you like the look of my site, then this is a great option for you!
For more tips on how to build your website on a budget, check out these articles:
d – Content 
Web content can, of course, be written by you, or you can hire a freelancer to do it for you! Once again, Fiverr is an affordable and effective option for this. Check out this article for some tips to help you write better content for your website. 
 Related: How to write an "About" page that connects and converts.
Online business cost 3: Business Email
Launching a business email is a little different to a personal one, in that you will often have to pay to use it. Your business email will use your domain name, and comes with several features that aren't necessary for personal email accounts such as extra storage, security and multiple addresses for different needs.
You should always check with your web host, as business email addresses are normally included in the monthly cost.
Some other options include:
Online business cost 4: Photos
It's hugely important that your website has personal and unique photographs on it – this is what will really set you apart from your competitors and other sites out there.   
Of course, the best way to get high-quality photographs taken is to hire a professional photographer, but if this is out of the question cost-wise, then why not get creative and have a friend take some for you!
If there are certain things that you do need stock photos for, there are some really good stock photo websites that offer royalty images free of charge. Check out this article for options!
Online business cost 5: Marketing
Once your business is set up, it is time to let the world know so you can start getting clients! Now, this doesn't mean that you need to spend huge amounts of money on ads.
Start by talking to your network: friends, family, neighbours, local businesses, past colleagues, yoga buddies, fellow dog walkers at the park, other mums during school drop-off. Tell everyone about your new business and ask for referrals. You will be surprised at how effective this can be! 
One of the biggest pieces of advice that I can offer to those starting up a new business is to use social media to your advantage. It is, without a doubt, one of the best and most cost-effective ways to let prospective customers know about your services, and therefore it can be a new business owner's best friend. 
Social media can help you to begin establishing a consistent audience and can even find you your very first clients. Facebook groups offer an amazing platform to network, so have a look at suitable groups within your industry which you could join, and get active. 
The best part about social media is that it's free to use! So you can promote yourself as much as you want at no cost at all. 
As with logo design, sites like Canva are an excellent way to make colourful and exciting graphics that tie in with the rest of your brand.
Related: How to use Canva templates to create scroll-stopping social media images
Online business cost 6: Courses and Coaching
We've focused a lot here on how to save you money, but it's equally important to know what is really worth investing in for your business. Upgrading your skills and learning from experts is never a bad idea, and can only do great things for your business. Investing in some courses or a coach is certainly worth looking into.  
Online business cost 7: Additional Setup Costs
Of course, there are bound to be set up costs outside of the key areas discussed above that you need to keep in mind. For example, registering your business as a company could cost varying amounts depending on where in the world you are. 
Furthermore, hiring legal and financial help as well as insurance all come with their own costs as well. These are all essential components to your business, but are what will ultimately give you the freedom you need to thrive!
RELATED: 10 fundamental steps to starting a business in New Zealand
In conclusion: how much does it cost to start an online business
Launching an online business will require some start up costs, but these are a lot lower than launching a brick and mortar business. There are lots of ways you can save money, and you can even tackle some of the tasks yourself without spending a dime. 
If you are are to star your business and make some real progress, I recommend that you download my free "New Business Workbook" to help you get some clarity and kickstart your business journey. Download here!
You can also read these articles for more tips and inspiration: