There is a lot of confusion amongst business owners about the use of images found online. One of the most common questions is: "Can I use stock photos on my website?".
In this article, I will give you the answer plus I will share the list of my top 5 stock photo websites where you can find high-quality images.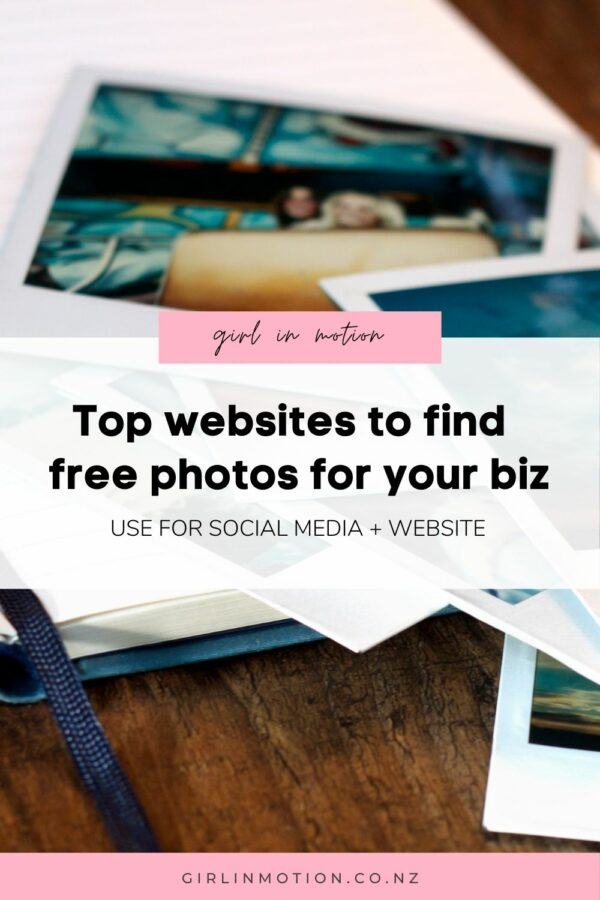 What Is a Stock Photo?
In simple terms, a stock photo is an image that anyone can find and use for personal or business purposes (with certain restrictions).
Rather than hiring a photographer to take photos for a specific use, individuals and business owners can search a database of existing images and use them for their project.
What are the Benefits of Stock Photos?
Stock photos are an amazing resource for solopreneurs and businesses of all sizes providing a virtually endless supply of images that are ready to use and available at the click of a mouse. 
You can search through a database of millions of images from the comfort of your couch. Many of them are available to use totally for free, while others can be purchased for a premium price. 
Stock photos make professional photography available for anyone. Many small businesses don't have the budget to commission their own imagery for marketing campaigns or other commercial projects.
Digitally savvy business owners know that good imagery is key to create a professional and trustworthy image. Stock photos make it easy to search and find images to create that sleek look. 
How Do I find an Image within a Stock Photo Website?
Stock photo websites have search bars that allow you to find images in second. Simply enter your search term (for example, dogs) and you will be presented with a range of options. For example, this is what Unsplash's search function looks like and the results you get when searching for dog images: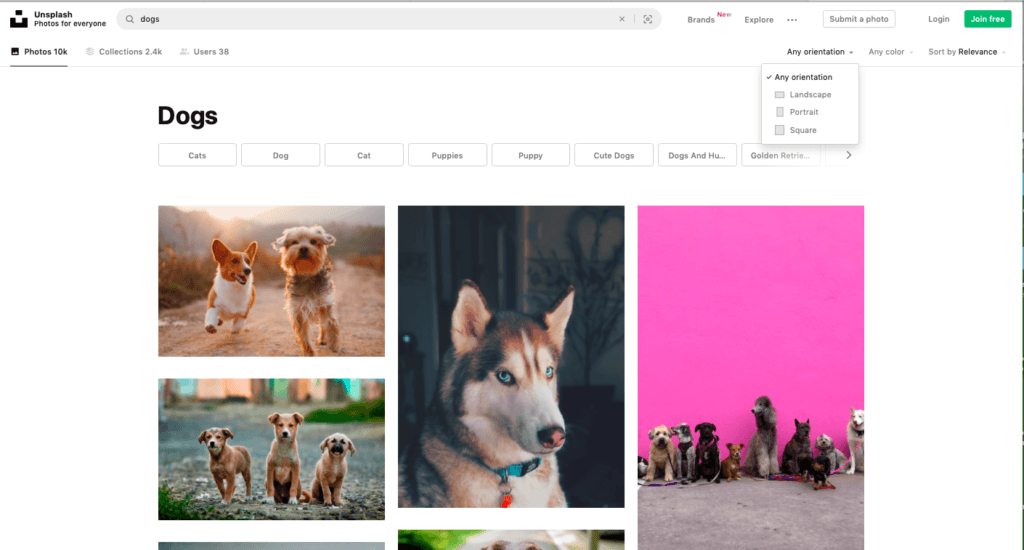 As you can see, there are a whopping 10 thousand dog photos available!
Unsplash offers the option to sort the search results by orientation (landscape, portrait, square) colour, as well are relevance or date (newest or oldest first).
They also give you related search terms, such as more niche categories and related keywords (e.g: puppies or cute dogs) so you can have fun clicking through the different options to see what you can find. There are usually hidden jewels to be discovered, so it pays to take your time when doing a search!
If you find a photo that you like, you can usually also click through to see who the photographer is and see all the work produced by that person. This is an ideal option to find a whole collection or a range of images with a similar style to create a cohesive look for your marketing material. 
Can I Use Photos I Find on Google for my Business?
The simple answer is, no! Just because a photo is found on the internet, it doesn't mean that it can be used anywhere else or shared.
Using a photo that you find online without asking the copyright owner for permission can leave you legally exposed and you can end up with a hefty legal bill to pay.
So the rule for this is one is simple: be safe, don't use images you find on Google for your website or social media. 
YOU MAY ALSO LIKE: How to set up a business Instagram account. 
Is It OK to Use Stock Photos on My Website?
The answer is, it depends. Many stock photo websites offer "Royalty Free" images, but this doesn't necessarily mean they are free of restrictions. 
Each stock photo website will have its own restrictions, and to make matters even more complicated, each provider sometimes has different types of licences within their stock.
So the bottom line is: if you want to use stock photos on your website or for any other type of commercial use, always read the fine print of the provider. 
Is It Ok to Use Stock Photos on my Social Media? 
As per above, it depends on the stock photo provider and the specific licensing of the photo that you want to use. Read the fine print. 
I have included links to the licence agreement pages of the most common stock websites below, so keep reading for more info. 👇🏻
Licensing Jargon
The legal licence agreement of stock websites is full of legal jargon and can be difficult to understand for the average person. 
To makes things easier for users, most stock photo websites usually have two versions of their licence agreement, a short simplified version using "plain English" and the "official" legal document.
I recommend that you read both versions carefully. If you have any questions after reading the agreement, it is a good idea to contact the stock photo provider directly to clarify any doubts. Simply find their "contact" sections and fire them an email. Better to be safe than sorry!
My Top 5 Stock Photos Providers
If you are ready to start sourcing stock photos for your small business, you may be wondering which is the best website to explore. 
Well, I have some good news for you: I've curated a list with my top 5 stock photo providers, including both paid and free options. 
1. Pexels
Pexels offers hundreds of thousands of stock photos that are free to use. Their licence terms are straight forward and the images provided cover a really good variety of subjects.
Their motto is to "Empower Creators: By providing free stock photos Pexels helps millions of creators all over the world to easily create beautiful products and designs."
One of the good things about Pexels is that their photos can be added to any designs that you make using Canva – simply search for images using the "photo" option on the left hand side menu in Canva.
You can find Pexel's licence details here.
2. Raw Pixel
Raw Pixel offers both paid and free photos. They claim to have the most diverse stock photos in the industry: "Raw Pixel is smashing stereotypes to create design resources that reflect today's society as it really is."
Besides offering stock photos, Raw Pixel also has a good selection of graphics, mockups and Photoshop templates. Raw Pixel has a few different licence types for their stock, so read the fine print before using them.
You can find their licence details here. 
3. Unsplash
Unsplash is one of the biggest and most popular stock photo sites, with more than 2 million images available to download for free.
They reckon they are "Better than any royalty free or stock photos." Check them out and be the judge!
You can check their licence details here.