If you are building a website with WordPress, you should be taking advantage of the many amazing free WordPress plug-ins available. These can enhance your site's functionality without costing a dime!
If this sounds a bit too technical for you, don't fret. Installing plug-ins is very easy! Once you go through the process of getting your first plug-in, you will see how straightforward it is. Making yourself comfortable with using plug-ins will open a world of possibilities, so don't shy away. 
In this article, I will talk to you about my top 5 free WordPress plug-ins and the reasons why I love them!
Disclaimer: This post may contain affiliate links. This means, I get a commission if you purchase through my links, at no cost to you.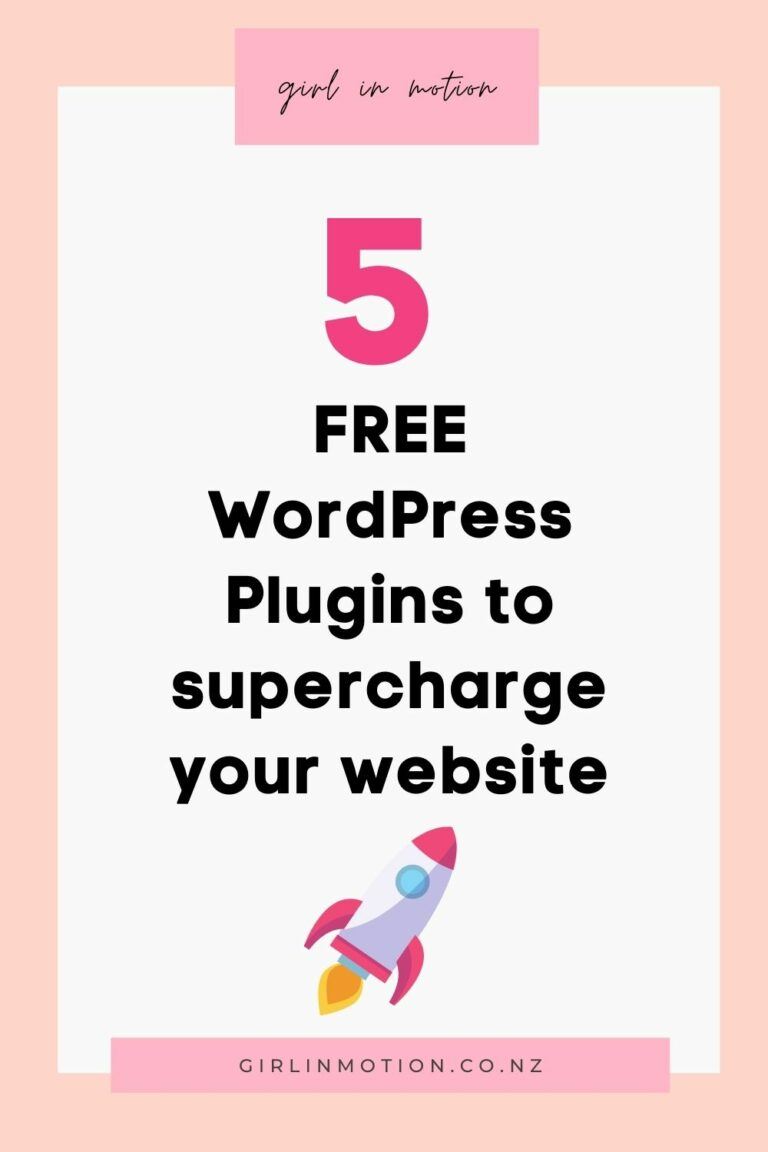 What is a plug-in?
If you are new to website building, you may be wondering: what is a plug-in? So let's talk about this first.
According to WordPress: "WordPress plug-ins are PHP scripts that extend the functionality of WordPress. They enhance the features of WordPress or add entirely new features to your site. plug-ins are often developed by volunteers and are usually free to the public" 
In plain English, WordPress plug-ins are bits of code that you can add to the back end of your website to make it better! 
It works a bit like installing an app on your phone. You can easily search and install a plug-in, and once you activate it, you will have access to cool new features on your site. Pretty cool, uh? 
Why are some WordPress plug-ins free?
Most plug-ins offer free and paid versions. Free versions normally offer limited functionality and you need to upgrade to the paid version to get the full range of features.
Having said this, many free plug-ins provide amazing benefits! 
I use the free version of all the plug-ins I mention below, except for Elementor, and get awesome features without any cost. And while I use the pro version of Elementor, the free version is packed with amazing value. So don't let this put you off from installing it. 
How to search for plug-ins
If you are looking for a plug-in you can search two ways:
1 – Search within WordPress
You can search for a plug-in directly in the back end of WordPress. This works if you already know the name of the plug-in that you want or if you are just looking for a plug-in to serve a specific purpose.
To do this, select "plug-ins" from the left-hand side menu of WordPress and then "Add New"
You can search using the search bar (as shown below) and this brings up results matching your query.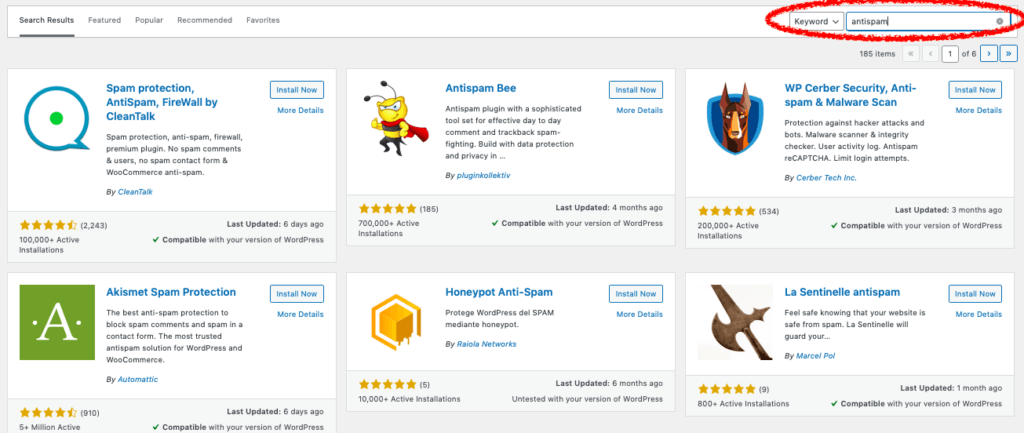 If you see something that catches your eye, you can click on the plug-in's name to bring up more information and reviews.
For example, this is the information that comes up if I click on the "WP Cerber Security" Plug in. 
2 – Do a Google search
You may want to do a bit of research before installing a plug-in. In this case, you can head to Google and type a keyword plus the word "plug-in" and see what results come up. For example "anti-spam plug-in"
This will bring back a range of results. These are normally articles containing reviews and lists of recommended options. You can read a few articles before making your choice and then you can head to WordPress and search for your selected plug-in by name (as explained above)
How do you install plug-ins?
Once you have found the plug-in that you want to install, you need to simply click on the "Install Now" button. Once the plug-in has installed, you need to "Active it"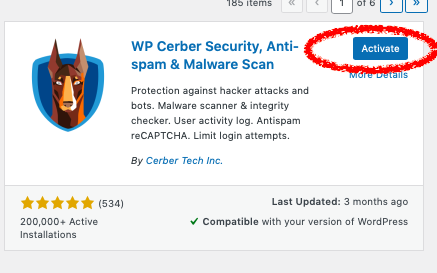 Each plug-in has its own support documentation, so if you ever get stuck, have a look at the developer's website for further assistance.
You can easily uninstall a plug-in!
Don't stress too much about installing a plug-in. If you install something that doesn't work for you, you can easily uninstall and delete it.
To delete a plug-in, simply select "plug-ins" from the left-hand side menu of WordPress, choose the plug-in that you want to delete, and click on the "delete" button.