If you are building a website with WordPress, you should be taking advantage of the many amazing free WordPress plug-ins available. These can enhance your site's functionality without costing a dime!
If this sounds a bit too technical for you, don't fret. Installing plug-ins is very easy! Once you go through the process of getting your first plug-in, you will see how straightforward it is. Making yourself comfortable with using plug-ins will open a world of possibilities, so don't shy away. 
In this article, I will talk to you about my top 5 free WordPress plug-ins and the reasons why I love them!
Disclaimer: This post may contain affiliate links. This means, I get a commission if you purchase through my links, at no cost to you.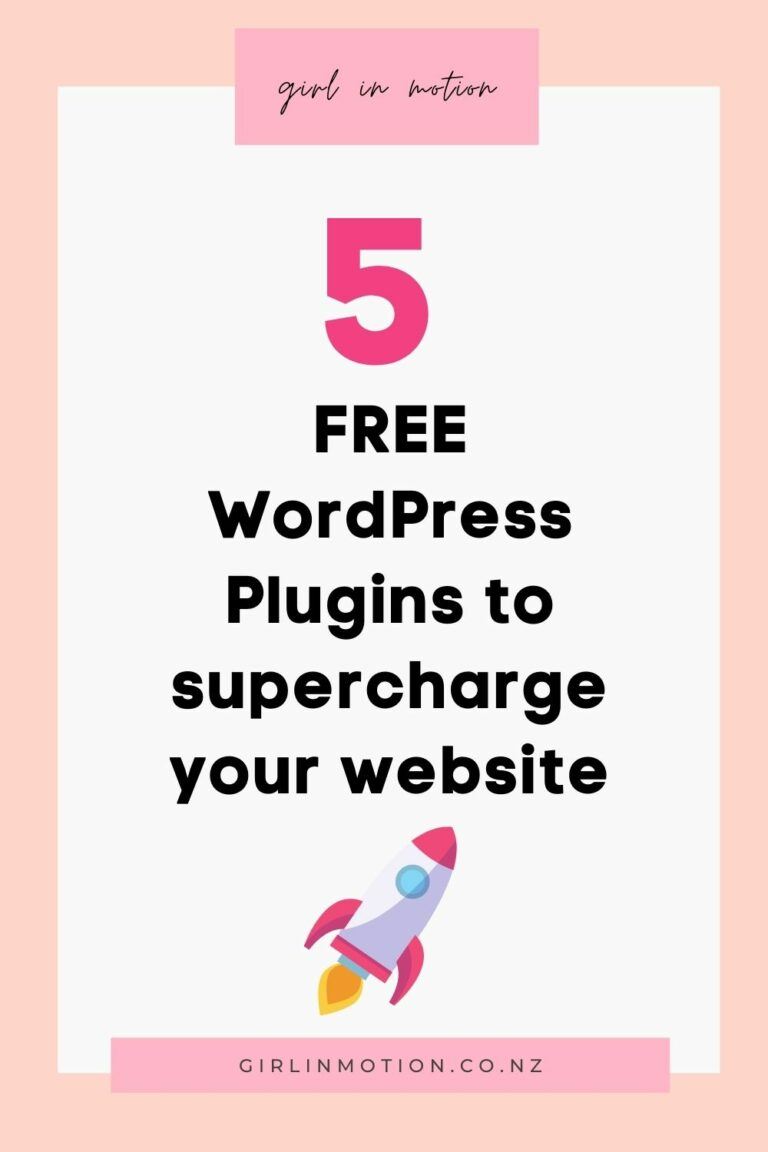 What is a plug-in?
If you are new to website building, you may be wondering: what is a plug-in? So let's talk about this first.
According to WordPress: "WordPress plug-ins are PHP scripts that extend the functionality of WordPress. They enhance the features of WordPress or add entirely new features to your site. plug-ins are often developed by volunteers and are usually free to the public" 
In plain English, WordPress plug-ins are bits of code that you can add to the back end of your website to make it better! 
It works a bit like installing an app on your phone. You can easily search and install a plug-in, and once you activate it, you will have access to cool new features on your site. Pretty cool, uh? 
Why are some WordPress plug-ins free?
Most plug-ins offer free and paid versions. Free versions normally offer limited functionality and you need to upgrade to the paid version to get the full range of features.
Having said this, many free plug-ins provide amazing benefits! 
I use the free version of all the plug-ins I mention below, except for Elementor, and get awesome features without any cost. And while I use the pro version of Elementor, the free version is packed with amazing value. So don't let this put you off from installing it. 
How to search for plug-ins
If you are looking for a plug-in you can search two ways:
1 – Search within WordPress
You can search for a plug-in directly in the back end of WordPress. This works if you already know the name of the plug-in that you want or if you are just looking for a plug-in to serve a specific purpose.
To do this, select "plug-ins" from the left-hand side menu of WordPress and then "Add New"
You can search using the search bar (as shown below) and this brings up results matching your query.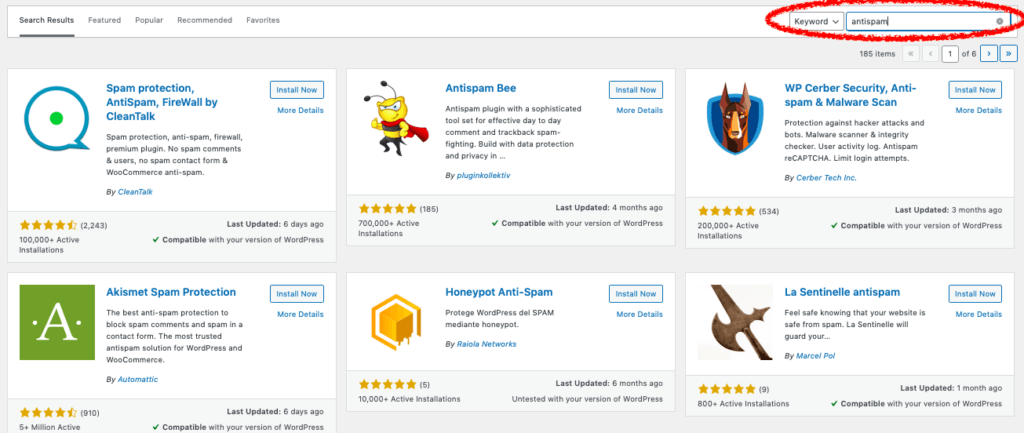 If you see something that catches your eye, you can click on the plug-in's name to bring up more information and reviews.
For example, this is the information that comes up if I click on the "WP Cerber Security" Plug in. 
2 – Do a Google search
You may want to do a bit of research before installing a plug-in. In this case, you can head to Google and type a keyword plus the word "plug-in" and see what results come up. For example "anti-spam plug-in"
This will bring back a range of results. These are normally articles containing reviews and lists of recommended options. You can read a few articles before making your choice and then you can head to WordPress and search for your selected plug-in by name (as explained above)
How do you install plug-ins?
Once you have found the plug-in that you want to install, you need to simply click on the "Install Now" button. Once the plug-in has installed, you need to "Active it"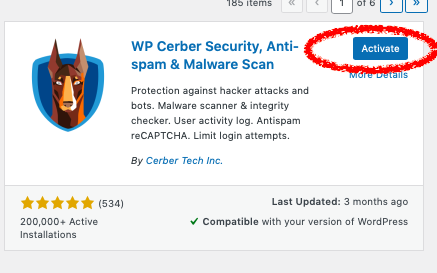 Each plug-in has its own support documentation, so if you ever get stuck, have a look at the developer's website for further assistance.
You can easily uninstall a plug-in!
Don't stress too much about installing a plug-in. If you install something that doesn't work for you, you can easily uninstall and delete it.
To delete a plug-in, simply select "plug-ins" from the left-hand side menu of WordPress, choose the plug-in that you want to delete, and click on the "delete" button.

My Top 5 Free WordPress plug-ins
Here's the list of my favourite WordPress plug-ins that are totally free.
1 – Elementor
If you've been following me for a while, you will know I am a huge fan of Elementor!
Elementor claims to be "the ultimate & free WordPress drag and drop editor, that lets you create beautiful WordPress websites in the easiest and quickest way possible."
And I agree with this claim! Elementor makes it easy for anyone to build a sleek and professional website without the need of spending big bucks.
If you want to learn more about building websites with Elementor, check out these two articles:
2 – Kraken
Kraken is a very handy plug-in, as it automatically reduces the size of images as you upload them into WordPress.
This is how they summarise their product:
"Kraken.io is a robust, ultra-fast image optimizer and compressor with best-in-class algorithms. We'll save you bandwidth and storage space and will dramatically improve your website's load times."
As you may know, uploading images that are big in size is a no-no as it slows down your website and hurts your SEO. (If you don't know read this article to learn the basics of image optimisation)
The beauty of Kraken is that:
A- it saves you a lot of time as you don't need to reduce the size of the images before you upload them to WordPress.
B – It maintains the quality of the image while reducing the size.
You can even compress images that you've uploaded to your website in the past (before you installed Kraken). This needs to be actioned manually, but it is a great option if you have uploaded a whole bunch of images without considering the size and want to make amends.
 3 – Monster Insights
This plug-in is great because it makes it super easy to set up Google Analytics on your site. 
If you don't use Monster Insights, you need to install a specific code on your site to track your website's visitor data. So unless you know code, this plug-in is a must-have.
This is the plug-in in a nutshells, according to the people that have created it:
"MonsterInsights makes it "effortless" to set up Google Analytics in WordPress, the RIGHT Way. Simply install the plug-in and enable the features you want with just a few clicks, no coding needed!" 
4 – Yoast SEO
Yoast SEO is amazing. The free version offers so much value that it is a total must-have for WordPress users (especially if your website has a blog).
Yoast SEO allows you to allocate a focus keyword to a page or post and instantly gives you tips on how you can improve the page for better search engine rankings. The system also runs a super helpful checklist to ensure that your page is as optimised as possible to give you a higher chance to rank.
Yoast also makes it super easy to add page titles and meta descriptions. (if you have no idea what this means, read this).
RELATED: 15 simple tips you can boost your search engine results
5 – Social Warfare
I love this plug-in because it makes it super easy for visitors to share your content on social media. This plug-in is especially awesome if you are trying to grow your traffic using Pinterest. 
Social Warfare says they offer "the sexiest social sharing buttons on the market. ", and I tend to agree!
In Conclusion
So there you go, here are my top 5 free WordPress plug-ins. These amazing bits of code won't cost a dime but will add some awesome features to your site. If you are looking to boost your online presence and grow your traffic, then I recommend that you check out these plug-ins. 
What are your favourite plug-ins? Let me know in the comments, I would love to hear your recommendations.
Read these articles for more tips and inspiration: 
Latest blog posts: