You would have probably heard that blogging is a powerful tool for small businesses. But why, you may be wondering? 
Well, in simple terms, a blog is a way to connect with your audience and showcase your brand's personality. Digitally-savvy consumers have questions and do research before making a purchase. A blog is the perfect outlet to provide the answers they are searching for!
In this article I will talk about 10 powerful benefits of having a small business blog: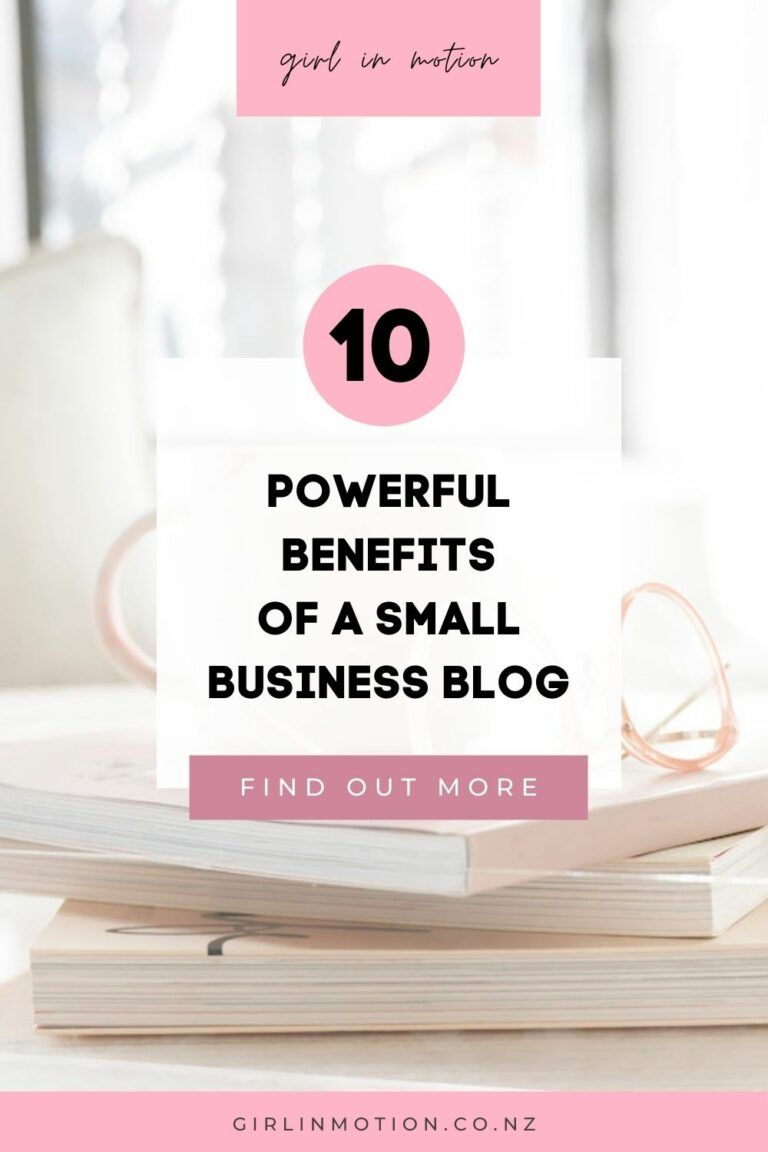 Benefits of blogging for small businesses
Blogging is a strategy that requires time and commitment, but if done well, a business blog can really help your small biz! These are the benefits of a business blog:
1 . Showcase Your Personality
A blog is an excellent way to showcase who you are and what makes your business unique. Refining your style and tone will make you (over time) instantly recognisable and will help build lasting relationships with your audience.
2. Get More Traffic
A small business blog is an excellent way to increase traffic to your website. According to a Hubspot study, just 2 posts per month can boost your B2B leads by up to 70%. Pretty impressive!
3. Provide Value to Your Audience 
Creating content that offers instant value is an excellent way to build an audience. A blog allows you to get noticed by your ideal customers and potential business partners. 
4. Become an Authority in Your Industry
People research before they make decisions. With a blog, you can provide the answers they are looking for. Keep the fresh, creative, and informative content coming and you'll become a valuable resource for your growing audience.
5. Multiple Opportunities to Connect
Every blog post that you create has the potential to be shared across different platforms, amplifying the potential to reach more people. You can re-purpose each blog post to create multiple social media posts. Create a pin and share it on Pinterest for even more chances of it being shared.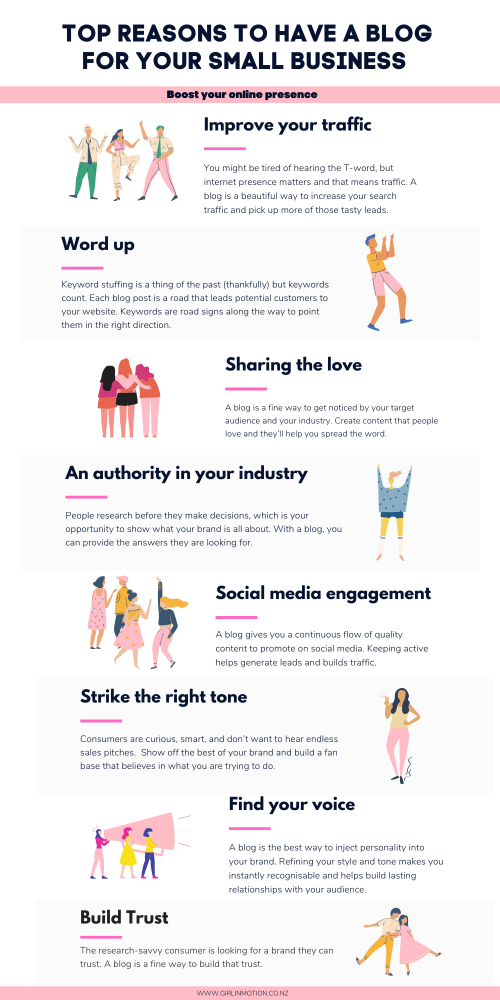 6. Build Trust
People engage with brands they can trust. A blog is a fine way to build that trust. Showcase your knowledge and personality and become the friendly expert within your field.
7. Show the Face Behind the Business
The days when businesses were faceless corporations are long gone. These days people want to know the person behind a brand. A blog gives you an excellent outlet to share your personal experience and give your business the human touch.
8. Start a Conversation
A blog is a conversation starter. A comment section on a blog is a valuable source of feedback and a meaningful way to engage with your customers.
9. Make Keywords Work for You
Each SEO optimised blog post is a road that leads potential customers to your website. Keywords are road signs along the way to point them in the right direction
10. Sell, Without Being Salesy
Consumers are curious, smart, and don't want to hear endless sales pitches. Show off the best of your brand and build a fan base that believes in what you are trying to do. Being authentic gains trust, which makes converting so much easier.
Will a blog improve my traffic?
With the right strategy, a small business blog will get more eyes on your brand. The Google algorithm is a mysterious and ever-changing beast, but it's no secret that it loves quality content. Feed the beast and get more traffic.
Ultimately, Google is trying to serve users by accurately answering search queries. What does that mean for your blog? It means that quality counts. Fresh, regular, and high-quality, that's what we are talking about.
Conclusion: The Powerful Benefits of a Small Business Blog
So, there you have it, 10 powerful benefits of a small business blog. Blogging isn't for everyone and it's not the only strategy out there to build a following online. But, for many small businesses it's the perfect first step into the world of digital marketing.
Blogs are a fantastic source of marketing content and can help give your brand a personality people can relate to. Become a valuable resource for your audience and they'll keep coming back for more.
Ready to boost your small business with a blog? Check out my 10-Step Blogging Roadmap
Latest blog posts